THE FUTURE OF PROFESSIONAL DRIVER TRAINING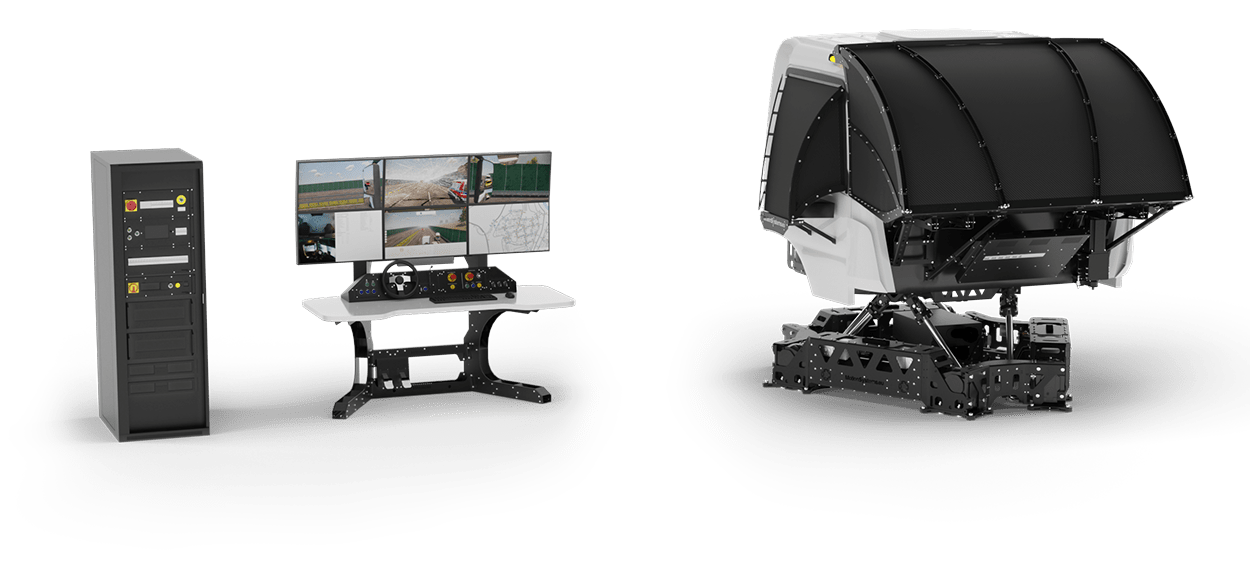 Motion System PS-6TM-1500
Fully equipped Cockpit System
Professional Training Software
TS-10 is one of the most advanced driving simulation system used for training professional truck and bus drivers. It has been officially certified by PIMOT as a training device meeting the Regulation of the Polish Minister of Infrastructure. This turnkey solution is dedicated to both driving schools, but also to educational establishments.
Training with the TS-10 simulator allows practice of critical decision-making skills and reinforces positive decision making, situation and spatial awareness in a realistic, risk-free environment. The system has been implemented in the training programme by Grupa CARGO, which is one of the most professional driving schools in the region.
PROGRESSIVE AND IMMERSIVE 
TS-10 Simulation Training System for Truck and Bus Drivers includes all necessary elements to learn how to drive, from the beginning level to the advanced driving training in fast-changing conditions in the most immersive environment. 
TS-10 DRIVING SIMULATOR BENEFITS
EFFICIENCY –  TS-10 allows to conduct practical real world training in various type of vehicles, on different terrains and for different road also in fast changing atmospheric condition.
SAFETY – With TS-10 truck simulator, the risk of injury or damage to business is zero. The drivers get their education in a non-moving hardware device to move on the real road traffic flawlessly.
COST-EFFECTIVE – Lower operational costs through the fuel management training and minimize maintenance and damage to vehicles. Rental of special infrastructure such as a skid pad is also not required.
ACCELERATED LEARNING – TS-10 gives possibilities to simulate many road scenarios in various vehicle options in one session. Also using cutting-edge technology makes drivers much more efficient and more enthusiastic, which significantly reduces training time.
REALISTIC – The simulation allowes very accurate training methods that can predict vehicle rollovers, stopping distances on wet, dry or icy roads, severe steering maneuvers, and a host of other real-life driving situations.
MEASURABLE – Complete report and objective feedback on training results and full control of the instructor during practices gives drivers the confidence to drive safer and more efficiently.
READ MORE
READ MORE
The driver is trained inside orginal Mercedes truck cabin, which is mounted on a 6DoF motion platform. The equipment used in the cockpit gives highets quality warranty and reliablity for years.
All components are connected to the network and work the same as in real truck.
Full and original cabin components integrated with the simulator systems
Original dashboard with ignition, levers, indicators and switches located as in real vehicle
Glass cockpit simulating original display
Tachometer simulation
Device system for the communication between driver and instructor
Custom pneumatic system for driver seat, steering wheel adjustment and brake pedal
Custom air conditioning system fully integrated with original ventilation control
Simulated gearbox with custom resistance system
MULTIFUNCTIONAL WORKSTATION
TS-10 is delivered with in house designed instructor station equipped with 6 displays allowing instructor to control simulated vehicle and driver in real time. View of parameters gives instructor necessary information to validate driver performance.
Equipping the instructor stand with a set of manipulators for driving, allows to expand typical training with unpredictable road situations. The training is recorded, and a report containing many driving-related statistics is generated.
INSTRUCTOR STATION COMPONENTS
5 Monitors to observe the current traffic situation from driver point of view on windscreen, left window, right window, map with actual position of the driver and other relevant data on the traffic environment of a current situation
Monitor to display instructor's control panel to maintain the scenario and system display diagnostic information and broadcast from camera
Driving wheel, throttle and brake pedals
Dashboard with basic driver function buttons
Emergency power off to shut down the system and motion platform
Rack Cabinet components
1GB Ethernet Switch
Network Video Recorder
2xPC for instructor station
Main switchboard
Switchboard of motion platform
2xUPS
PROFESSIONAL TRAINING SOFTWARE
Advanced vehicle physics
high-performance physics simulation powered by PhysX
complex tire traction model
high fidelity of vehicle mechanics verified by driving instructors
Configurable vehicles
different truck, semi-truck and buses models
full range of different engines to choose for vehicle
6 speed manual gearbox
8 speed manual dual-gearbox
9 and 12 speed automatic gearbox
vehicle stability control systems (e.g. ABS, ESP)
all-wheel drive differential locks
different models of trailer and load setups
ADVANCED ENVIRONMENT SYSTEM
Intelligent traffic system
animals, pedestrians, bikes, motorbikes, cars, vans, buses, and trucks
different behaviors of participants in road traffic
up to 200 AI-controlled vehicles and pedestrians in sight
support for right side driving and left side driving
Diverse environment
plains, forests, hills, tunnels, rivers, bridges, villages, and cities
variable weather conditions and different times of the day
custom training scenarios and random events
different set of road signs depending on the selected country
SOPHISTICATED ROAD SCENARIOS
Extensive road network
open-world road network with editable road signs
more than 150 km (93 miles) of roads and highways
automatic detection of traffic offences
Ergonomic user interface
an interactive world map with dynamic scenario events
intuitive vehicle parameters and driving conditions
recording the training course and generating reports
multiple user interface languages
Motion Systems is the european leading designer and manufacturer of professional motion platforms and components for simulators in the sector of heavy equipment, automotive and industry.
Over the past ten years, we've delivered thousands of motion systems to customers around the world. Gained experience enabled us to create one of the most advanced simulator for truck and bus drivers training.
Truck simulator TS-10 and other our devices are designed, developed and built in Poland (Europe).
DOWNLOAD TECHNICAL SPECIFICATION